No matter what size your company is, you need to have certain rules, arrangements and procedures in place to prevent confusion, waste of resources and customer doubt.
---
Not having written, effective and up-to-date policies and procedures can hurt your business!
---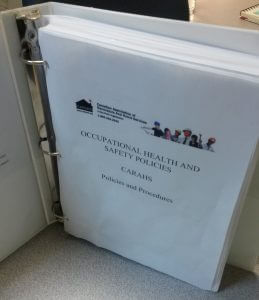 Policies and procedures help to identify key activities and deliver guidance about how to achieve YOUR business goals and objectives. A policy sets the expectation for employee behaviors and the procedure outlines the steps needed to achieve it.
Together, they provide a set of guidelines for all of your employees to follow to ensure that they carry out specific tasks thoroughly and consistently, setting certain standards allowing your company to
grow to the next level.
Please answer these - 10 Basic Questions
(Only a sample of requirements required under the Ontario Occupational Health & Safety Act)
1. Do you have written Policies & Procedures? Are they up-to-date to protect you under investigation?
2. Have you or your employees completed the Working at Heights course and is it up to date?
3. Do you/your employees possess the Mandatory WHMIS course completion card? Is it up-to-date?
4. Does your workplace have a stocked First Aid kit? Does everyone know where it is?
5. Is someone on site trained in First Aid and carry a completed, up-to-date course card?
6. Do you and your employees know what to do in the case of an EMERGENCY?
7. Does your business have procedures to handle cases of Violence or Harassment in the workplace?
8. Are there Hazard Reporting procedures in place for unsafe working conditions?
9. Do you provide a new employee / contract position orientation? Do you keep Training records?
10. Do you have Disciplinary procedures in place?
If you answered "NO" to any of these questions, you may have holes in your policies and procedures putting you at risk of fines and prosecutions under the Ontario Occupational Health and Safety Act.
CARAHS can help!